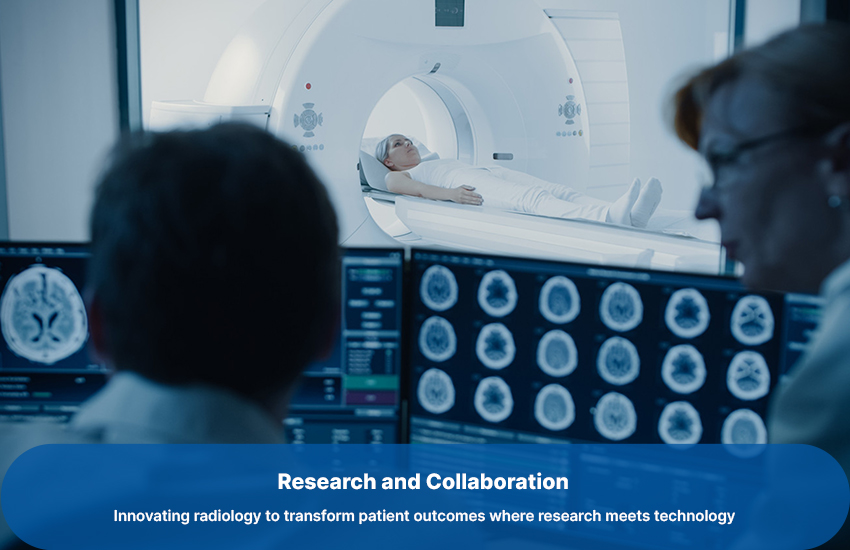 Research and Collaboration
Research in the field of radiology is focused on reducing the time of disease detection and better patient outcomes. Technological advancements and breakthroughs in Medical Imaging have been fast-paced & increasingly precise leading to better medical practices over the past two decades and significantly improving efficiency and patient care. These advancements have also led to a constant demand from Clinicians and Patients to keep up to pace with advancing technology.
The Manipal Hospitals Radiology Group (MHRG) recognizes that keeping abreast with emerging technologies is essential to patient care and endeavors to provide the best to its patients. Being actively involved with industry leaders in Imaging Technology places MHRG in the most optimum position to adopt the latest technologies for the benefit of its patients.
MHRG operates a large number of radiology facilities and offers Teleradiology services to a large number of clients and has assimilated vast working knowledge, operational experience, clinical expertise and domain understanding in the field of Medical Imaging. These core competencies are offered to industry partners, in the form of various collaboration programs, to help them with their Research & Development efforts.
Industry Collaboration
MHRG extends the clinical and operational radiology expertise with industry partners. We have a dedicated team of academically oriented expert radiologists, who provide clinical feedback with respect to:
Product Design
Software Design and Features
Workflow Integrations
Clinical problem statements/solutions
Machine Learning Applications
MHRG supports the development of machine learning applications in Radiology through programs that help AI experts with:
Problem Identification & Isolation
Algorithm training through relevant data sets
Algorithm testing and validation
Workflow integrations and testing
Hospitation Programs
We offer structured hospitation programs for orientation of the non-medical research teams to provide them an insight into the operational aspects of a hospital. We have designed these orientation programs in a way that will help them to understand the different aspects of the radiology department and gain knowledge to design and develop products for the healthcare industry. These programs can be customized depending on the individual's needs.